Our Coronavirus
Action Plan
 Our New                       Safety Measures
 At Plugged In Electricians, we put our customers first, which is why   we have developed an action plan in the light of the coronavirus   outbreak. The outlined processes have been put into practise to   reduce the spread of the virus. 
  Take a look below at our policies and procedures.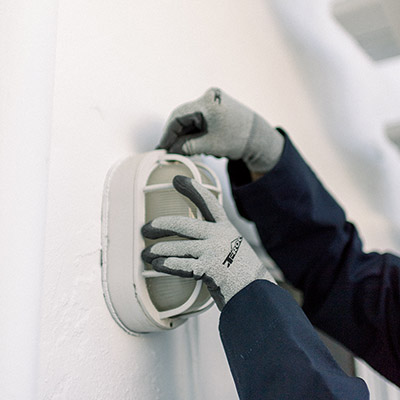 Wearing Masks.
We have taken precautions to buy safety equipment for the protection of our customers and electricians. These include Full Face Masks and Gloves.
Keeping Outside Or Letting Fresh Air In.
Whenever possible, we will be working outside. If for any reason we can't, we will politely ask our customers if we can open windows and doors, to let the fresh air in.
Washing Hands Regularly.
Coronavirus is easily transmissible through phisical contact (like shaking hands ect.). When entering the work environment, we won't offer handshakes, or any other person-to-person contact. Your electrician will have sanitiser and may request to use your hand washing facilities.
Wiping Touched Surfaces.
Coronavirus can be on many surfaces, or items. These include metal railings or handles, light switches, buttons and even clothes. Coronavirus can survive on different materials for different lengths of time. We will use gloves as often as possible and wipes where required. Additionally, sanitised indoor shoes where required.
Updates
11th May 2020 Update:

 

Recent government advice and the easing of restrictions has allowed us to offer services as normal from now onward. The use of PPE equipment listed and safe working practices will still apply, along with following government advice as it emerges.

24th March 2020 Update:

 

Following our government's instruction, we are still working and offering a reduced service to help stop the spread of the virus.

September 2020 Update: With Restrictions lifted to some extent, we are reopening ourselves to more jobs, whilst still maintaining all the practices above.
December 2020 Update: Following the new Lockdown measures, we are again limiting service and following instruction from the government on what to do in this time.
.