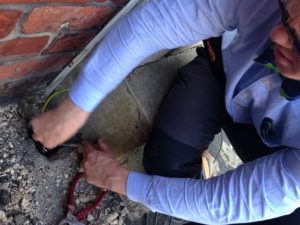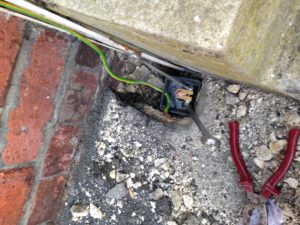 We inspected a rented property and found that the earth fault loop impedance reading was over 1600ohms.  This type of property has a metal rod in the ground which will take dangerous electricity from the home if anything goes wrong.
In this case the reading should have been less than 200ohms.  The electrics had an RCD which many people think will be fine if there is a fault.  Well in this case (and in many) the RCD couldn't operate because the reading was too high.
We decide the best course of action was to fit a new earth rod.  We did so and got the reading to 97ohms.  And guess what… the RCD started working again.   The system went from potentially life threatening to safe in the space of a few hours.  The sad thing is that many of the properties on this row didn't have earth rods so had no safety in their homes.  If you're not sure, then call for an inspection of your home.  Just because the electricity works, this doesn't mean the system is safe.
Plugged In Electricians offer safety inspection reports from £99 for a small home.  We detail the current state of your electrical installation and offer recommendations for safety and more convenient electrics for your home.